Description
A 37-year-old man with a history of post-cholecystectomy and a known case of supra renal cystic lesion was referred for contrast-enhanced computed tomography of abdomen, where a supra-renal, well-defined, thick-walled cystic lesion with intense peripheral enhancement on arterial phase measuring 7 × 8.2 × 7.6 cm (anteroposterior × craniocaudal × transverse; Figure 1b) was seen replacing the right adrenal gland. Fat planes were relatively well-maintained. The Hounsfield Units (HU) were calculated in the lesion in phases (plain/pre-contrast, venous, and delayed; Figure 1) by taking the average value of the overall heterogeneous enhancement of the lesion and observing the washout patterns in the pre-contrast (55 HU; Figure 1a), venous (140 HU; Figure 1c) and delayed phases (100 HU; Figure 1d) and comparing them to the standard radiological features.
Typically, wash out patterns are calculated as follows:
APW=100 (VA-DA)/ (VA-PCA)
RPW=100 (VA-DA)/VA
(APW: Absolute Percentage Washout; RPW: Relative Percentage Washout; VA: Venous Attenuation; DA: Delayed Attenuation; PCA: Pre Contrast Attenuation)
APW >60% and RPW >40% is suggestive of adenomas and vice-versa of non-adenomas. In addition, if attenuation is < 10 HU on non-contrast imaging, it is most likely an adenoma.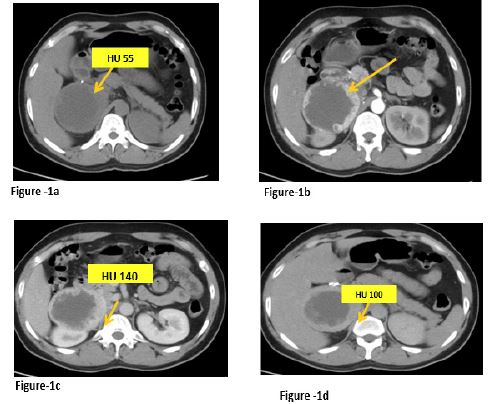 Figure 1a: Pre-contrast image of the lesion with mean attenuation value of 55 HU.
Figure 1b: Arterial phase (heterogenous enhancement of the lesion).
Figure 1c: Venous phase where the mean attenuation value is 140 HU.
Figure 1d: Delayed phase images (washout patterns) of the lesion with attenuation value of 100 HU.
To rule out the adrenal lesion described above: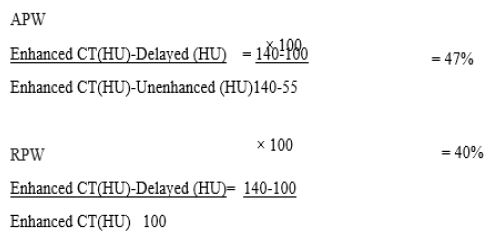 The APW is < 60% and RPW is 40%, which correlates with the radiological features of unilateral, well-encapsulated solid tumour >3 cm in size, hypodensity (cystic) or hyper density (necrotic), heterogeneous enhancement (Figure 1b) due to cystic areas, all of which are suggestive of pheochromocytoma, a very aggressive and rare lesion that is difficult to detect at very early stages, which also co-relate with the histopathology of the lesion.