Clinical presentation
It most commonly occurs in the parotid gland, but it can also arise from minor salivary glands in the lips, hard palate, base of tongue, as well as submandibular gland [4-6].
It is a low-grade tumour that typically presents as a slowgrowing, painless swelling, though high-grade lesions presenting with pain and facial nerve paresis have been reported [4,5,7,8]. It occasionally has extracapsular extension, perineural invasion, and cervical nodal metastasis, whilst distant metastasis is rare [4,9]. Local recurrence is uncommon [5]. Despite it usually behaving indolently, it can also behave more aggressively, however there are no definitive prognostic factors to help differentiate this currently. Treatment is typically by gland extirpation, with or without neck dissection, and sometimes radiation therapy. However, given the rarity and lack of prognosticating factors, there are no consensus regarding treatment and follow up [4].
Histopathology
In WHO 2017 4th Edition Classification of Salivary Tumours, in addition to introducing the concept of high-grade transformation and modification of salivary carcinomas including polymorphous and cribriform adenocarcinoma, clear cell carcinoma, intraductal carcinoma, there are three new entities that have been added including MASC, sclerosing polycystic adenosis and intercalated duct lesions [10].
MASC shares the morphology and genetics of secretory carcinoma of the breast, a subtype of infiltrating ductal carcinoma, which is equally rare [1]. Previously it has been labelled as acinic cell carcinoma, mucoepidermoid carcinoma, and adenocarcinoma, not otherwise specified [11,12]. It typically occurs in young male patients, with a mean age of 46 years old [4]. However, paediatric cases have been reported [13,14]. The defining characteristic is the ETV6-NTRK3 fusion and translocation: t(12;15) (q13;q25), which can both be identified on FISH or PCR [1]. This translocation has also been identified in infantile fibrosarcoma and congenitalmesoblastic nephroma [15]. Cases without classical ETV6 gene rearrangement may harbour alternative gene rearrangements ("ETV6-X fusion") that may be associated with more aggressive clinical course of the disease [16].
Grossly it is a well-circumscribed, unencapsulated multilobulated mass, subdivided into smaller segments by fibrous septa. Microscopically the tumour cells have uniform round and vesicular nuclei with central nucleoli and eosinophilic pink vacuolated cytoplasm. Cells are arranged into microcystic, cribriform, tubular, papillary, follicular or solid nests. Microscopic foci of invasion are often present, but the overall mitotic activity is low. High grade MASC variations are characterised by a more solid and trabecular architecture with necrosis, diminished secretions, larger cells and more prominent nucleoli with atypia [6].
Intraluminal secretions may be seen in the microcystic or tubular structures. Such material is usually mucicarmine, periodic acid-Schiff (PAS), and Alcian blue positive. It also stains with antibodies to epithelial membrane antigen (EMA). The microscopic features of MASC can be also recognized cytologically by fineneedle aspiration biopsy. Cells are positive for a wide-spectrum of cytokeratins (e.g. AE1/AE3, Cam5.2), low-molecular weight cytokeratins (CK7, CK8, CK19), vimentin, S-100, mammaglobin, GCDFP-15, MUC1, GATA-binding protein 3, adipophilin, α-amylase, DOG-1, SOX-10, and p63 [6].
Here we present two cases of MASC involving the parotid gland that were managed in our centre.
Case I
A 35-year-old man presented with one year of painless firm and mobile left parotid lump of about 2 cm which has not changed in size. There were no cranial nerve deficits on exam. He had a background of obesity, gout, asthma, depression, nonsmoker, and previous excess alcohol and methamphetamine intake. He is of New Zealand Maori background.
An MRI showed a superficial lobe tumour, with no pathological neck nodes (Figure 1). Subsequent core biopsy suggested a secretory carcinoma although it was ETV6 negative on FISH. The patient proceeded to superficial parotidectomy with preservation of facial nerve and without neck dissection (Figure 2).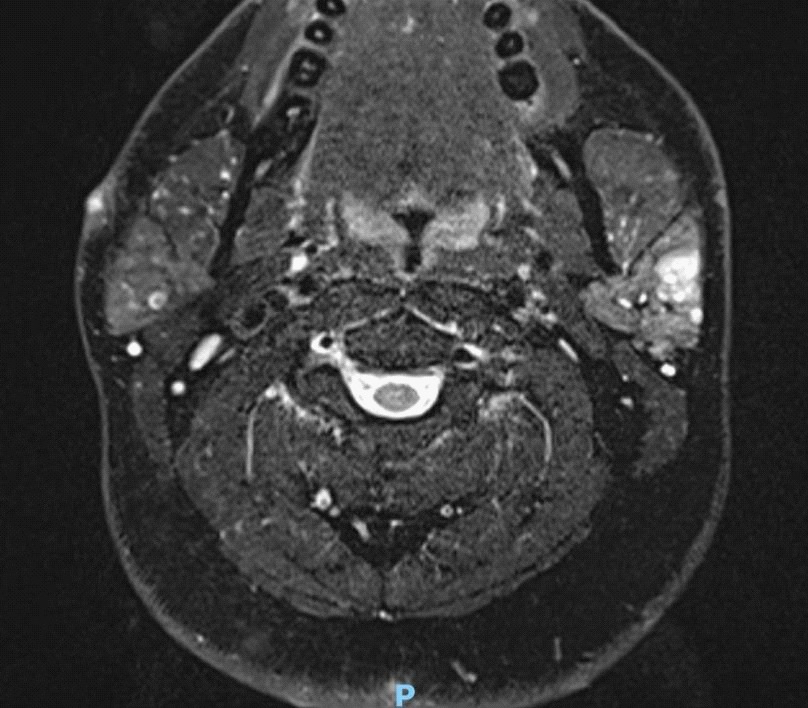 Figure 1: MRI of Case 1 with evidence of T1 hypointense and T2 hyperintense well-defined, though lobulated soft tissue density lesion in the superficial lobe of the left parotid. The lesion measures approximately 14 x 14 x 11mm. There is no fat suppression seen on fat-sat sequences. On diffusion weighted there is significant diffusion restriction and loss of signal on ADC sequence.
The surgical specimen showed a 25 X 15 X 15 mm well-circumscribed but unencapsulated lesion with soft creamy yellow areas and firmer pale areas. The lesion was completely excised with closest margin of 3 mm and no involved lymph nodes or perineural invasion. Microscopically the tumour had lobules of cells with solid and microcystic growth pattern, with lobules separated by fibrous septa. There were also associated infiltrates of plasma cells and lymphocytes. The tumour cells contained small round nuclei with occasional mitoses (mitotic rate 1 in 10 high power fields). No PAS positive zymogen granules were identified.
FISH was repeated but was negative for ETV6 re-arrangement. A diagnosis of MASC was made based on morphology, presence of S100, Mammoglobin, GCDFP15, and negative DOG1 (Table 1). Multidisciplinary consensus favoured clinical observation without post-operative radiotherapy. There was no evidence of recurrence at 12 months following his operation.
Table 1:Immunohistochemistry (IHC) features of cases.
| | | |
| --- | --- | --- |
| IHC | Case 1 | Case 2 |
| S100 | + | + |
| Mammoglobin | + | + |
| CK5/6 | - | + |
| SOX10 | - | + |
| GCDFP15 | + | - |
| DOG1 | - | - |
| BOB1 | - | - |
| Mel A | - | - |
| P40 | - | - |
| MUC1 | + | - |
| CK8/18 | + | + |
| CK19 | + | + |
| Vimetin | + | + |
| SMA | - | - |
| GATA3 | - | - |
| CK7 | + | + |
Case II
A 65-year-old man presented with one year of painless 3 cm firm left parotid lump with limited mobility, reportedly to be gradually enlarging. He is a non-smoker or drinker of alcohol and is otherwise well. He is of New Zealand Maori background.
An MRI and CT showed a large 60 x 38 x 37 mm mass in left parotid, involving the deep lobe, extending into parapharyngeal space with mild compression of the carotid artery, but no lymph node involvement (Figure 3). He proceeded to core biopsy which was suggestive for secretory carcinoma, with FISH negative for ETV6 re-arrangement.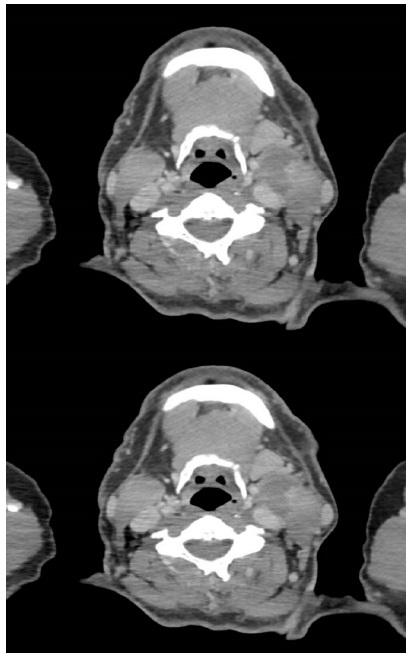 Figure 3: Case 2 with A) MRI with a mildly T1 hyperintense, moderately T2 hyperintense 60 X 38 X 37mm enhancing solid with cystic component lobulated mass centred within the deep lob of the left parotid gland with extension anteroinferiorly into the left submandibular gland, displacing the retromandibular vein and the superficial temporal artery. There is also mild extrinsic compression on the carotid. No lymphadenopathy. B) CT: A 76 X 35 X 28mm dumbbell shaped mass in the left parotid gland. It displaces the adjacent structures, including the jugular vein and carotid artery, but not evidently invading it.
He proceeded to total conservative parotidectomy, parapharyngeal mass excision and selective neck dissection (Figure 4).
Final histology showed a completely excised, encapsulated parotid tumour 80 X 27 X 25 mm with solid and cystic components. Microscopically there are solid, nested, as well as infiltrative cord-like architecture. Cytologically there were cells with eosinophilia as well as focally vacuolated cytoplasm. Nuclei are uniform with occasional small but prominent nucleoli. No mitotic activity was seen. There was no perineural invasion and no involved lymph nodes. Immunohistochemical results are shown in Table 1.