Case report
A sixty-six year-old male was admitted to our Hospital because of anemia, thrombocytopenia, fever and hypotension. Hemoglobin was 8.8 g/dL, total white blood cells were within normal ranges (with neutrophils and monocytes 4.4 and 2.4 X 109 /L, respectively, and no circulating blast cell) and platelets 4 X 109 /L. Routine biochemistry assessing kidney [3] and liver function, as blood coagulation tests, were within normal ranges. Physical examination was unremarkable apart from the detection of spontaneous mucosal and cutaneous bleeding. No abnormal finding was detectable on Computed Tomography (CT) of head, neck, chest and abdomen. The patient had a previous history of neuroendocrine carcinoma of the nasopharynx and paranasal sinuses with localized nodal metastases, diagnosed and treated one year earlier, that was still in complete response after chemotherapy (cisplatin, 5-flurouracile, etoposide) and localized radiation therapy.
The patient bone marrow was almost totally repleted with immature, medium-sized cells of undifferentiated/monocytoid appearance, with high nucleo-cytoplasmic ratio, dispersed nuclear chromatin with inconspicuous nucleolus, occasional multinuclearity and basophilic agranular and at times vacuolated cytoplasm (Figure 1A and B). The FC analysis demonstrated two abnormal cell Populations (P) constituting the infiltrative marrow process (Figure 1C & 1D). P1 represented 50% of all gated cells and consisted of larger cells that were CD45 unreactive, minimally CD117 reactive (7%), partially HLA-DR positive (37.7%), CD56 positive (97%), and totally negative for all other markers (immufluorescence staining <3% for stem cell antigens CD34 and TdT; myelo-monocytic antigens cyMPO, CD13, CD33, CD4, CD11b, CD14, CD15, CD16, CD64, CD65; B- and T-lymphoid antigens CyCD79a, CD19, CD10, CD20, CyCD3, CD7, CD2, CD5; erythroid antigens CD235a, CD36, CD71; other antigens CD25, CD38). P2 consisted of smaller cells (15% of all gated cells) that expressed low-intensity CD45, minimally CD117 reactive (4%), weakly HLA-DR (17%) and CD11b (13%) positive, CD56 positive (66.2%) and negative for all other markers studied. Altogether, these findings, the past medical history and the absolute blood monocytosis raised the possibility of a secondary AUL, weakly CD45+, minimally CD117+, HLA-DR+ and CD56+, in an elderly patient who had previously been treated with chemotherapy and radiotherapy.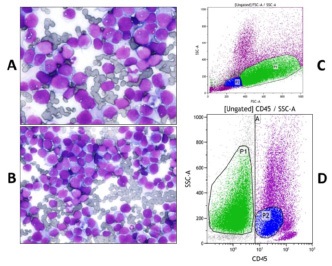 Figure 1: May-Grunwald Giemsa staining of bone marrow smears showing massive infiltration by atypical, monocytoid mediumsized to large blast cells (panels A and B, magnification x600, x400). Flow cytometric analysis of marrow blasts, documenting two cell populations (P1 and P2) expressing HLA-DR and CD56, CD45 negative (P1) and CD45 weakly positive (P2), respectively (see text for details on immune marker analysis) (panels C and D). Selected images document forward versus side scatter (FSC, SCC) gating and CD45 expression. Data acquired using a BD FACS Canto equipped with Kaluza software version 1.3.
After discussion of the diagnostic issue, in agreement with the patient's own and his relatives' wish, AML-type chemotherapy was initiated because of the severity of the clinical picture dominated by the hemorrhagic risk. Our standard chemotherapy program for older adults with AML was started on day 3 from admission: mitoxantrone 10 mg/m2 /d intravenously (i.v.) on days 1-3, etoposide 100 mg/m2 /d i.v. and cytarabine 100 mg/m2 /bd i.v. on days 1-5, plus G-CSF from day 8. On day 6 the patient developed a hypertensive crisis that was soon followed by loss of consciousness, with myosis and right gaze deviation, resulting in a Glasgow Coma Scale equal to 5. A cerebral CT scan documented an extensive right frontal brain hemorrhage with ventricular discharge and left deviation of the midline structures. Craniotomy was performed, but despite an effective blood drainage the clinical status deteriorated and the patient died two days later in the intensive care unit.
The bone marrow biopsy report was ready on day 8 from start of therapy (2 days following the patient's death). The final diagnosis was diffuse metastatic neuroendocrine carcinoma with reactive marrow fibrosis (grade 2). Positive immunostaining was confirmed for MNF116 (cytokeratin) and CD56, while synaptophysin, chromogranin, S100 and hematopoietic cell markers including CD45, CD34, CD3, CD10, CD79a and nuclear TdT were all negative (Figure 2). Cytogenetics assay results were received on day 16, reporting a hyper-tetraploid karyotype (4n+[18]/46,XY[10]) in approximately 65% of the metaphases analyzed.