Case presentation
A 56-year-old man, having psoriasis over 10 years, presented to our division with dyspnea, non-persistent fever, and productive cough within a period of 20 days, but denied chest pain, palpitations, syncope or body edema. Before he came to our facility, he was admitted to hospital A because of complaining productive cough, dyspnea, and fever for 5 days (Tmax 38.4o C). Computed tomography scanning showed diffused ground glass opacity, and local consolidation (Figure 1, A-1~A-3). Brain Natriuretic Peptide (BNP) was slightly elevated at 180 pg/ml. Then, pneumonia was suspected and bronchoscope was performed in that hospital for withdrawing Bronchoalveolar Lavage Fluid (BALF) for microorganism screening including Next Generation Sequencing Technology (NGS). There were no positive findings for bacteria, fungi, virus, and parasites. However, the patient was still empirically administered with imipenem and Linezolid. Several days later, voriconazole was also prescribed for recurrence of fever. After one-week treatment, the patient still had symptoms of dyspnea and productive cough. CT scan was rerun and the results showed as (Figure 1, B-1~B-3), ground glass opacity was getting thicken and traction bronchiectasis was obviously shown. He was then transferred to our hospital.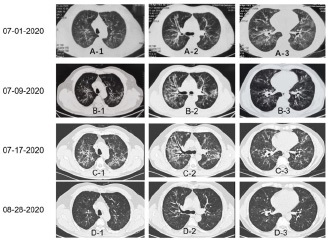 Figure 1: Serial computed tomography scan of the acitretin-related acute lung injury patient. A-1~A-3 showed a diffuse ground-glass opacity distributed on bilateral lungs in July 1st 2020; B-1~B-3 showed a thickened ground-glass opacity with obvious traction bronchiectasis in July 9 2020; C-1~C-3 showed consolidation and ground-glass opacity distributed along with bronchovascular bundle; traction bronchiectasis was more profounded in July 17. D-1~D-3 showed great reduction in ground-glass opacity and consolidation, recovery of bronchiectasis after 1 month glucocorticoid therapy in Augst 28, 2020.
Laboratory testing showed a white blood cell count of 13.1 X 103 /μL, lymphocytes of 1100/μL, hemoglobin levels of 13.9 g/ dL, platelet count of 339 X 103 /μL, and C-reactive protein levels of 0.6 mg/dL. Aminotransferase levels of 17.8 U/I, alanine transaminase levels of 21.3 U/I, total bilirubin levels of 0.54 mg/dL, total protein levels of 6.48 g/dL, albumin levels of 4.0 g/dL, blood urea nitrogen levels of 4.6 mmol/L, and creatinine levels of 49 μmol/L was detected. The Erythrocyte Sedimentation Rate (ESR) increased to 40 mm/h. Carcinoembryonic Antigen (CEA) was normal as 4.57 ng/ml, Neuron-Specific Enolase (NSE) increased to 33.40 ng/ml, and CYFRA21-1 was elevated as 19.80 ng/ml.Microbiological study showed a negative culture result for bacteria. He was also negative for T-SPOT, β-D glucan and galactomannan antigen test. The serum antibodies for virus including Influenza A, influenza B, COVID-19, cytomegalovirus, EB virus were also negative. He was hypoxemic with an oxygen saturation of 88% on room air at rest. Blood-gas testing showed a decreased PaO2 at 53 mmHg (room temperature, breath at quiescent status).
High resolution CT scanning revealed bilateral central distributed, diffused ground glass opacity and consolidation. More diffused traction bronchiectasis was also seen in the CT scan (Figure 1, C1~C3). Pulmonary function testing revealed a normal ventilation function, moderate decreased diffuse capacity (DLCO 3.66 mmol/min/kPa; 52.5% predicted value). Echocardiography was performed to rule out heart failure. The results showed no significant valvular disease and signs of heart failure (ejection fraction value of 63.0%, left ventricular end diastolic/ systolic diameter of 49/38 mm, inferior vena cava diameter during inspiration of 18 mm, and normal right ventricular internal diameter of 36 mmHg).
Based on above parameters, infection and heart failure were ruled out for the abnormality on CT scan and respiratory failure. Because he had psoriasis, we then inquired the therapeutic detail for the treatment. He was received about 10 years external acitretin treatment, and two months ago, he was advised to receive oral acitretin because of refractory skin lesion. After receiving 20-30 mg/day acitretin for two months, he got fatigue, dry mouth, and subsequently fever, dry cough, and progressive dyspnea. He then went to hospital A. Finally, the cause for his respiratory failure was diagnosed as acitretin-associated lung injury. Acitretin was strictly stopped, even for the external use. 40 mg methylprednisolone was intravenous administered to the patient for 5 days. And then he discharged with 40 mg oral prednisone for 15 days and 30 mg oral prednisone for another 15 days. A month later, he revisited to our outpatient setting, and CT scan was re-performed. As shown in (Figure 1, D-1~D-3), ground glass opacity and consolidation diminished and vanished, and traction bronchiectasis was largely alleviated.