Clinical Image
The malignant pleural mesothelioma (MPM) originates from the mesothelial tissue of the pleura and is associated with exposure to asbestos in majority of cases. Genetic susceptibility and potential synergy with an infection with the Simian Virus 40 are discussed for the pathogenesis of MPM [1].
Patients present with the onset of nonspecific symptoms such as dyspnea on exertion, due to pleural effusions, shortness of breath, chest wall pains and cough [2]. Diagnostic procedures such as CT-scans, followed up by a CT guided core biopsy or video-assisted thoracoscopic (VATs) guided pleural biopsy are recommended. Specific biomarkers are not validated yet for the diagnosis and prognosis. Current treatment options include chemotherapy, surgical treatment and radiotherapy and stable disease is the usual response [3]. The combined checkpoint inhibitor therapy has been introduced into clinical routine during 2021 [4] .
We present a 65 year old patient who was diagnosed with epithelioid MPM in February 2021 (Figure 1). A positron emission tomography with F-FDG as a radiotracer showed a metabolically active mass at the level of the left lower lobe and the dorsobasal recess with infiltration of the dorsal thoracic wall. We confirmed diagnosis via VATs guided pleural biopsy and achieved pleurodesis. The tumor board recommended a multidisciplinary approach with initiation of chemotherapy (ctx). Three cycles of ctx with cisplatin and pemetrexed were administered, tumor objective response rate was assessed via CT-scan and the MPM was categorized as stable disease. After two consecutive applications, tumor progression was observed (Figure 2). After abstaining from debulking surgery, we initiated second line therapy with Ipilimumab and Nivolumab [5]. After six month of therapy, tumor masses showed an almost complete remission, but bullae like structures occurred between the pleura parietalis and visceralis (Figure 3). We assume that the rapid remission of the MPM lead to traction of the subpleural lung tissue as pleurodesis still had the lung attached to chest wall.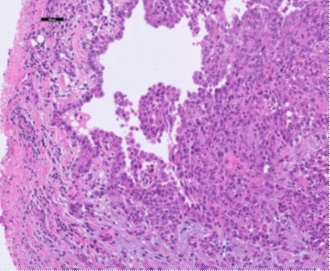 Figure 1: Malignant pleural mesothelioma. Microscopically, a solid growing tumor consisting of large cytoplasm-rich cells with vesicular nuclei and prominent nucleoli is apparent. The tumor invades the adjacent connective tissue (FFPE tissue of video-assisted thoracoscopic guided biopsy of parietal pleural, H&E staining, 200x).