Background
A 91-year-old female with a history of hypertension and atrial fibrillation presented to the emergency department with complaints of dyspnea and severe substernal chest pain that began 1 hour prior to presentation. She described the pain as tight and radiating to her left shoulder. The patient's current medications included oral Apixaban and Lisinopril, but she was non-compliant with her medications. On examination, her pulse was irregularly irregular at 70 beats per minute, blood pressure was 138/79 mmHg, respiratory rate 22 breaths per minute, and oxygen saturation of 88%. An urgent 12 lead ECG (Figure 1) was done, which captured the classical findings of both atrial fibrillation [1] and myocardial infarction [2], including irregular R–R intervals and absent P waves on all leads, ST-segment elevation in leads V1 to V6. Inverted T waves were also seen in aVR, aVL, V1, V2, V3, V4, V5, and V6. Her troponin I was 0.56 ng/mL (normal < 0.04 ng/mL). Her echocardiogram showed an ejection fraction of 45% with anterior hypokinesis of the left ventricle. She underwent cardiac catheterization, which revealed a complete occlusion of the distal left anterior descending artery. A drugeluting stent was placed in the left anterior descending artery, and the patient was subsequently admitted to the cardiac unit. By the 3rd day of admission, her symptoms had resolved, and a Transthoracic Echocardiogram (TTE) obtained showed no clots in either the atria or ventricles. She was discharged after five days of admission on oral anticoagulation medications.
Acknowledgement: None.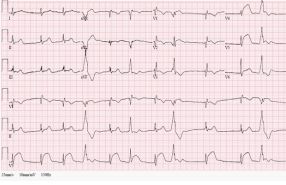 Figure 1: Electrocardiogram showing classical features of myocardial infarction and atrial fibriliation. There is an absence of P waves and irregular R-R intervals in all leads. ST elevation is seen in V1, V2, V4, V5 and V6. Inverted T waves are seen in aVR, aVL, V1, V2, V3, V4, V5 and V6. Premature ventricular contractions are seen in lead aVR, aVL, aVF, V1, V2, V3, V4, V5 and V6.