Case report
A 45 years old patient, from São Paulo, Brazil, presented to the emergency department complaining a sub-acute onset headache, nausea and ataxic episodes. On the physical examination, he had no cognitive or sensitive deficits, but the neurologic examination showed a bilateral dysmetria and gait ataxia. A brain magnetic resonance imaging showed a supratentorial and infratentorial leukoencephalopaty, multiple cerebral and cerebellar cysts and calcifications with one of them compressing the anterior brain stem and the cerebellar parenchyma, which caused cerebral edema and obstructive hydrocephalus. The finding images were compatible with the literature description of adult-onset leukoencephalopathy with intracranial calcifications and cysts (Labrune syndrome).
The patient had a descompressive surgery of the cyst causing the hydrocephalus, and the material's histopathologycal analysis showed a degenerative process involving all cerebellar tissue associated with coagulative necrosis, dystrophic microcalcifications and perivascular hialinizations that lead to substitution of extensive neuropil, like the original histological description of the syndrome [1]. Following the procediment, we made a whole-exome sequencing and mutations showed no mutations on SNORD118. The ophthalmic examination made by an ophthalmologist and a neurologist revealed no retinal lesions, so Cerebrospinal Microangiopathy with Calcifications and Cysts (CRMCC), an important differential diagnosis with a different mutation, was an unlikely diagnosis. The patient had no other systemic manifestations.
One year after, the patient returned in the outpatient setting showing no neurologic deficits. He is asymptomatic since.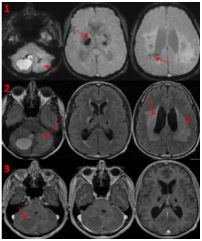 Figure 1: Brain MRI (1) SWI - Multiple linear and oval calcifications on brain and cerebellum. (2) FLAIR - Supra and infratentorial leukoencephalopathy compromising cerebellar vermix, hemispheres and peduncles the profound cerebral hemispheres were also damaged, mainly on parietal lobes. (3) Volumetric gadolineum enhanced sequence - Cystic lesions with peripheral contrast enhancement on cerebellum and corona radiata bilaterally. The bigger was on the anterior portion of the cerebellar vermix and right cerebellar hemisphere, measuring 2,7 x 2,8 x 3,0 cm, with effacement of cerebral sulci, reduction of the posterior fossa cistern amplitude, anterior deviation of the brain stem, cerebella.
Genetic studies
Whole-Exome Sequencing (WES) was performed using Illumina technology. Sequence alignment and variants identification were made using bioinformatics protocols, using as a reference the GTCh37 version of the human genome.
99.8% of the gene targeting were read at least 10 times, with a median of 115 reads each. The analysis generated 64.816.129 sequences. The gene was entirely sequenced by Sanger technique.
CTC1 was also a target, but there was also no mutations in the gene.
Pathologic features
The biopsy analysis revealed a degenerative and regressive process on cerebellar tissue, with areas of coagulation necrosis, dystrophic microcalcifications and perivascular hialinizations that substitutes extensive areas of the neuropil.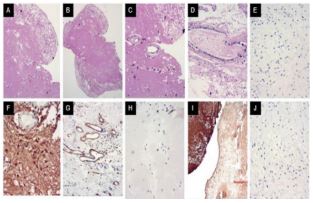 Figure 2: Histopathologycal analysis (A) Dystrophic microcalcifications and hemossiderin deposits (B) Coagulative necrosis (C) Hialinizated vascular walls (D) Intraluminal thrombus (E) Ki67 negative (F) GFAP+ in more preserved areas (G) CD34 – Reparative angiogenesis and fibrosis (H) Negative beta amyloid on hialin material (I) S100+ on preserved areas comparing to damaged areas S100- (J) Negative p53.
The histopathology of the cerebellar tissue may be secondary to obstructive microangiopathy leading to coagulation necrosis and, so, to the dystrophic micro calcifications.