Discussion
The patient demonstrated congestive encephalopathy secondary to DAVF in the setting of chronic nonocclusive dural venous sinus thrombosis of the right transverse sinus. Congestive encephalopathy is a known complication of chronic DAVF related to chronic venous hypertension and cortical venous reflux. When venous hypertension causes upstream cerebral edema and ischemia the lesion can cause encephalopathic symptoms, a clinical entity aptly described as venous congestive encephalopathy (VCE). Imaging findings consistent with this complication include the presence of DAVF with diffuse flow voids, venous congestion, and cortical venous reflux, all of which were seen on advanced imaging in this patient [5].
When considering the management of DAVFs, one must consider the grading models which attempt to use the lesion morphology to risk-stratify and inform clinical decision-making. The most commonly used clinical classification systems include the Borden and Cognard systems of classification [4,5].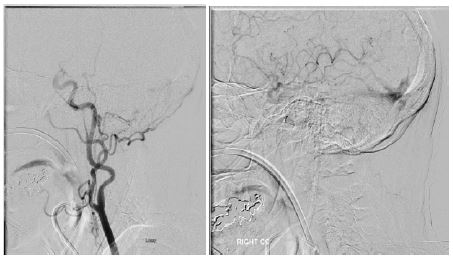 Figure 6: Digital subtraction angiogram of the head. There is antegrade blood flow through the branches of the external carotid artery branches which demonstrate a DAVF at the torcular region with predominant vascular feeders from the middle meningeal and occipital arteries. There is extensive delayed clearing through the capillary phase which suggests increased superficial cerebral and cortical venous drainage pattern through the superior sagittal sinus. Notably, there is an absence of visualization of the basilar battery, left vertebral artery, bilateral sigmoid sinus, bilateral jugular vein, inferior sagittal sinus, and straight sinus.
The Cognard system of DAVF classification can be delineated as such: type I lesions demonstrate dural venous sinus drainage with normal anterograde venous flow, type IIa lesions demonstrate dural venous sinus drainage with retrograde venous flow in the dural sinus alone, type IIb demonstrate dural venous sinus drainage with retrograde venous flow in the cortical veins only, type IIa+b demonstrate dural venous sinus drainage and retrograde venous flow in both the dural sinuses and cortical veins, type III demonstrate cortical venous drainage without ectasia of the draining vessels, type IV demonstrate cortical venous drainage with ectasia of draining vessels, and finally type V showing spinal medullary vessel drainage. Of note, the authors of this initial classification system defined ectasia as greater than five-millimeter diameter and three times larger in diameter than draining veins [5].
In contrast to the Cognard system, the Borden DAVF classification system is simpler and uses three classes that can be delineated as such: Type 1 lesions demonstrate one or more fistulas between a meningeal artery and dural venous sinus or vein, type 2 lesions demonstrate one or more fistulous connections between meningeal arteries that drain into the dural sinus with retrograde subarachnoid venous flow and/or spinal DAVFs that drain into the epidural venous plexus and/or perimedullary veins and type 3 lesions draining directly into subarachnoid veins. These types are further subclassified into A and B subtypes with the former having a single fistula and the latter having multiple fistulas [4].
The common patterns in these classification systems are that a greater degree of cortical venous drainage, retrograde flow, and cerebral venous burden/ectasia have a direct correlation with more aggressive neurologic features such as signs of increased intracranial pressure (nausea, vomiting, headache, papilledema), seizures, intracranial hemorrhage, encephalopathy, and ascending myelopathy (if spinal DAVF) [4,5].
To illustrate the importance of recognizing Cortical Venous Reflux (CVR) on imaging, van Dijk et al reviewed long-term sequelae associated with cortical venous reflux in patients with DAVFs. In this study, 118 high-grade DAVFs (Borden 2-3 & Cognard IIb-IV) with CVR were offered treatment, and in those who declined or had persistent evidence of cortical venous reflux (a total of 20 patients), the investigators followed their clinical course. The authors found the following complication rates over a mean follow-up of 4.3 years: 7 patients (35%) had intracranial hemorrhage 6 who died as a result, 6 patients (30%) suffered Non-Hemorrhagic Neurologic Deficits (NNHDs) 4 who experienced venous congestive encephalopathy presenting with a dementia-like syndrome [6]. In the case outlined above, venous reflux was demonstrated in the straight sinus which was likely related to chronic nonocclusive venous thrombosis and resultant DAVF which resulted in the NNHD of dementia-like syndrome similar to van Dijk et al's study cohort.
If we are to use the above-mentioned systems of classification, the patient's lesion would be graded as Cognard II/Borden 1. Although the lesion could have been higher in grade, it is apparent that she presented with a more aggressive course with non-hemorrhagic neurologic deficits including encephalopathy and seizures. This highlights an important concept in the evaluation of DAVFs: One must consider the lesion grade in the context of the patient-specific scenario. Cognard et al specifically discussed the necessity of determining if normal dural venous sinus structures are intact in evaluating lesions (particularly low-grade) as vascular anomalies concomitant with acquired DAVFs may have more aggressive courses [6]. Our case is demonstrative of this fact, in that the patient had a known hypoplastic right transverse sinus which means the grading systems could underestimate the risk in this patient. Ultimately, her lesion grade, anatomic anomaly, aggressive neurologic course, and presence of CVR were all poor prognostic factors that outweighed the procedural risk of staged embolization.
Although benign DAVFs which are asymptomatic and without CVR may be monitored with serial imaging and/or treated with manual arterial compression maneuvers, higher-grade lesions with worrisome clinical or radiologic features are often treated with staged embolization procedures [3,7]. The embolization approach depends largely on the location and morphology of the lesion. For example, cavernous dAVF are often treated with a transvenous embolization whereas transverse and sigmoid DAVFs are often embolized via a transarterial approach [8]. With respect to treatment goals, attempts should be made to completely embolize the DAVF as incomplete embolization does not completely eliminate hemorrhagic risk. That being said, lesions with extensive CVR or wide fistulous connections may not be amenable to complete embolization and thus treatment becomes focused on reducing hemorrhagic risk, venous congestion, and symptomatology [9,10].