Discussion
Vaginal carcinomas are rare gynaecological malignancy and uterovaginal prolapse with vaginal cancers are even rare.
Most patients with uterovaginal prolapse have chronic irritation and resulting in decubitus ulcers and there were reported cases of entero-cutaneous fistula [6]. Attempting vaginal hysterectomy may pose a risk of bowel injury and decubitus ulcer could mask a underlying malignancy.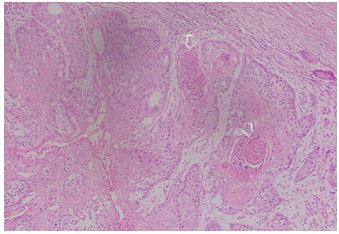 Figure 2: Microscopy: Sections from the vaginal mass reveal an invasive carcinoma composed of clusters, nests and strands of dysplastic squamous cells (arrows). The constituent cells show moderately pleomorphic nuclei containing coarse chromatin and abundant eosinophilic cytoplasm. Keratin pearls formation is abundant. Stroma is desmoplastic.
However, there is a technical difficulty of performing a radical hysterectomy in cases where there is a concomitant uterovaginal prolapse. Having a fibroid and large fungating growth further restricted reducing the prolapse and performing radical surgery through abdominal route. Tumor was resected as the first step and vaginal hysterectomy performed next.
There was no obvious lymph node enlargement on pre-operative imaging. Lymphadenectomy was not performed considering the possible surgical morbidity and her age-related poor performance status. PET-CT was not performed as it was not available. There were no facilities to assess her HPV status pre-operatively however, cervix showed a focus of koilocytic changes.
Primary radiotherapy has resulted in enterovaginal fistula and vesico-vaginal fistula [4]. Although not all resection margins have a 1 cm disease-free margin, repeat surgical excision nor the adjuvant treatment was not offered but arranged a close follow-up considering her early-stage disease and poor age-related performance status.
Even at 7 months postoperatively she had no clinical or radiological evidence of tumor recurrences.
Management of rare gynaecological malignancies with special co-existing morbidity is challenging to clinicians. Planning the management becomes further difficult in resource-limitedsettings yet, primary surgical management has successfully alleviated patient symptoms and the malignancy.