Results
IgE immuno-reactivities, assayed by immunoblot (see Online Supplementary Information), were compared on electrophoretically separated proteins extracted from the chocolate and the biscuit parts. Table 1 lists the available biological data for the included patients.
Patient P IgE reactivities were very strong and heterogeneous, from 94 kDa to 10 kDa, for the chocolate topping proteins but were weak for the proteins from the non-chocolate flavoured side (Figure 1A). The IgE of the three other patients (# 1, # 2, and # 3) reacted less strongly to the chocolate part (Figure 1A). The IgE reactivities of patient P to the chocolate topping -lactalbumin, P protein extract were competitively inhibited by the main cow's milk proteins -lactoglobulin, and total caseins (Figure 1B). Minor milk allergens such as lactoferrin, α -globulin, and bovine serum albumin were not inhibited (data not shown).β lactoperoxidase, Dotline experiments performed with several biscuit protein extracts (chocolate and non chocolate parts) revealed that only two batches of these biscuits (# 1 and #2) contained CM proteins, as IgE binding was observed with the serum of patient P. This binding could be fully inhibited by cow's milk at a range of concentrations (Figure 1C). Analysis of the chocolate biscuit from our patient's batch confirmed a high level of contamination of the chocolate by milk proteins on the biscuit production line. Moreover, the manufacturer was able to confirm the contamination.
Table 1: The biological data available for the patients used in this study.
Patient
Specific IgE (kU/L)
N r
Gender
Age
Neg Ctlr
M
3
CM: < 0.1
P
F
2
CM: 37.3, Bos d 4: 6.7, Bos d 5: 10.8, Bos d 8: 38.4
1
M
5
CM: < 0.1, wheat flour: 15.5, gliadin: 2.07, gluten: 23.2, Tri a 14: 6.06, Tri a 19: 0.3, rye: 10.6, barley: 7.01, oats: 1.78
2
M
2
CM: < 0.1, chestnut: 2.11
3
F
5
CM: 65.7, Bos d 4: 8.85, Bos d 5: 25.9, Bos d 6: 0.23, Bos d 8: 66.5
Neg Ctlr: Negative control = non-allergic no-atopic individual;
P: studied patient;
CM: cow's milk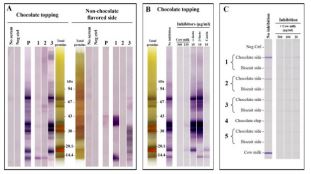 Figure 1: IgE immunoreactivity of patient P against proteins extracted from the chocolate and non-chocolate parts of various biscuits and separated by non-reducing 8-18% SDS-PAGE (A and B). A: Direct immunoblots against the contaminated biscuit # 1 (batch 1). The total proteins were revealed by silver staining. No serum: buffer only. Neg ctrl: serum from a non184 atopic, non-allergic child. Molecular masses are indicated in kDa. B: Competitive inhibition of the binding of P IgEs against proteins from the chocolate part of the contaminated biscuit # 1 (batch 1) with total cow's milk proteins at two concentrations and the main individual milk allergens at 10 μg/ml: -lacta: -lactalbumin, -lacto: -lactoglobulin, Casein: total caseins. C: Dotline experiment: Proteins extracted from five different biscuits and cow's milk were dotted in a line and incubated with or without (no inhibition) cow's milk as a competitive inhibitor. Neg Ctrl: dot of buffer only.