Discussion
Fibroepithelial Polyp (FEP) or fibroma is a common non-neoplastic reactive lesion of theoral cavity. Although its aetiology is unknown, it can be congenital, infectious, inflammatory, or traumatic in origin. It clinically presents as a painless sessile or pedunculated growth. It can have firm and resilient, or soft and spongy consistency [1]. FEPs are non-malignant and have low recurrence rates. It is a commonly reported lesion on buccal mucosa and gingiva, but involvement of the lip is rare [2,3]. To the best of our knowledge this is a rare case reporting the occurrence of FEP on the lip.
Histologically, the present lesion showed ortho-keratinised stratified squamous epithelium continuing into hyperplastic para-keratinised stratified squamous epithelium with basilar hyperplasia and elongated rete ridges. Underlying connective tissue showed mild inflammation (Figure 2). Based on the histological picture, the case was diagnosed as FEP/ fibroma.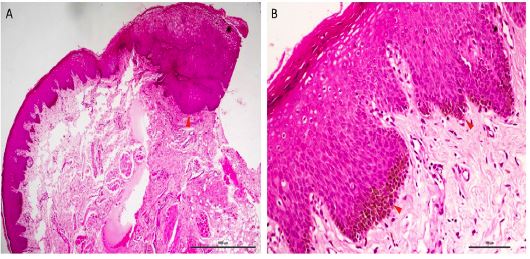 Figure 2: (A) Photomicrographs showing orthokeratotic stratified squamous epithelium continuing into hyperplastic parakeratotic stratified squamous epithelium with focal area displaying elongated and broad rete ridges (red arrowhead). Underlying collagenous stroma showed melanin incontinence in juxtaepithelial region, mild inflammation and AB-PAS negative eosinophilic exudate. (B) Basal third of epithelium showed basilar hyperplasia and melanin pigment (red arrowhead). S100 immunostaining showed no melanocytic hyperplasia.
Lips are highly visible facial structures which are exposed to various internal and external stimuli, resulting in the development of diverse lesions. The diagnosis of these lesions can be difficult, often warranting the need for biopsy. Excisional biopsy of the suspected orofacial lesion can be most challenging because it may result in deformity, especially those involving vermilion border of the lip. Patient satisfaction and self-reported aesthetics have become significant patient reported outcome measures. Utmost surgical precision is required for good cosmetic outcome. Early healing and good aesthetics with minimal scarring of the healed tissues can be better achieved by primary closure of the wound using microsurgical technique as compared to conventional suturing [4].
In the present case report double-layered microsurgical suturing was performed. The deeper layer was first sutured to minimize tension at the wound edge and reduce the dead space followed by superficial suturing of the wound margins to achieve primary closure [5]. The healing was uneventful with highly aesthetic outcome at 3 months follow up.
Conflict of interest statement: The authors declare no conflict of interest.