Case presentation
A 64-years-old woman was admitted to Internal Medicine Unit "Cesare Frugoni", Policlinico Hospital, Bari, in January 2022, complaining of fatigue, hand tremors, dark urine and muscle weakness involving proximal muscles of the trunk, particularly shoulders and upper arms. The physical examination showed dark red itchy rash on her cheeks, eyelids, knuckles, knees, chest and back. Moreover she presented swollen fingers, periungual telangiectasias and a light scleral jaundice (Figure 1). She denied assumption of alcohol and previous of blood transfusions. She reported a positive family history for autoimmune disorders (mother affected by RA). In February 2021 she was hospitalized for Covid19-related acute respiratory failure. She was then discharged at home in improved clinical conditions.
She was admitted to our department because of the laboratory finding of hypertransaminasemia at blood tests performed after an episode of vomiting.
The laboratory data obtained included: ESR 21 mm/hour (n.v. 1-20 mm/h), normal HB, WBC and PLT counts, serum gammaglobulin fraction 2.20 g/dL (37.3%; n.v. 11.1-18.8%), GOT 414U/L (n.v. 15-37 U/L), GPT 773 U/L (12-78 U/L), ALP 169U/L (n.v. 43-115 U/L), total bilirubine 5 mg/dL (n.v. 0.20-1 mg/dL; conjugated 3.66 mg/dL), gamma-GT 326 U/L (n.v.5-55 U/L), hypocomplementemia. In addition, elevated CPK, myoglobin and LDH values were detected (CPK 1401 U/L, myoglobin 231 ng/mL, LDH 813 U/L).
The antibody panel confirmed ANA positivity (1:2560) and anti-double stranded DNA positivity as well as evidence of antiU1 ribonucleoprotein (17.5 CU/mL v.n.< 10), Sp100 nuclear antigen and anti-Ro52 antibodiespositivity.
A diagnosis of autoimmune hepatitis type I was made based on the detection of a significant antibody titer for ANA(>1/2560) and on the results of echo-guided liver biopsy, which showed advanced immune inflammation with lymphomonocyte and plasma cell (MUM1+) infiltration, associated to necrosis of limiting plate and ductular cell neogenesis (CK7+). Moreover, liver specimen showed a moderate portal inflammation with abundant lymphoplasma cells detection and mild bile duct damage with lymphocytic cholangitis, consistent with a diagnosis of Primary biliary cholangitis (Figure 2).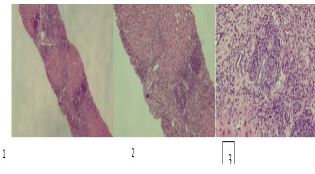 Figure 2: Photomicrograph that shows rustling of hepatic parenchyma with the presence of extensive inflammatory phenomena affecting both hepatocytes and bile ducts. (Hematoxylin-Eosin, Original Magnification 4x). 2. Detail of the previous photomicrography showing the presence of inflammation both at the level of the hepatic parenchyma and of the bile ductules. Note the presence of narrowing of the bile lumen due to extensive periductular inflammation, with neogenesis of new bile ductulins (Hematoxylin-Eosin, Original Magnification 10x). 3. Stronger magnification microphotography showing presence of the above mentioned features with particular detail of the biliary metaplasia aspects of hepatocytes at the hepatocyte-biliary interface (Hematoxylin-Eosin, Original Magnification 20x).
Serum antibodies for hepatitis related viral infections and antibodies against CMV and EBV testing yielded negative results. The RA-test for rheumatoid factor and antiphospholipid antibodies were within the normal range.
Both Computed Tomographic (CT) scan and Magnetic Resonance Image (MRI) were performed, showing enlarged disomogeneus liver with several regeneration nodules.
The Electromyography showed signs of myogenic suffering of the left deltoid. Muscolar biopsy was performed on the opposite deltoid, detecting myogenic and neurogenic suffering (Figure 3). Moreover punch biopsy on skin lesion showed epidermal atrophy and mild dermal fibrosis with sign of angiogenesis and perivascular chronic lymphocytic inflammatory infiltration (Figure 4).
Based on antibody pattern, clinical and laboratory findings, a diagnosis of Mixed Connective Tissue Disease was made.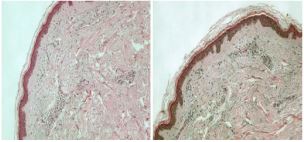 Figure 4: Histological micrograph showing a skin fragment with moderate atrophy of the epidermis, associated with mild fibrosis of the dermis and modest aspects of neoangiogenesis. Hematoxylin-Eosin (H&E), Original Magnification 10x; Histological micrograph showing the same morphological characteristics of the previous fragment, associated with a scarce chronic phlogistic infiltrate, lymphocyte, available perivascular. Hemaoxylin-Eosin (H&E), Original Magnification 10x.