Discussion
The purpose of this study was to investigate the efficacy of FDGPET/CT to detect LN metastases to the groin in newly diagnosed vulvar cancer patients. Groin LN metastases are an important prognostic factor, since metastases to the groin decreases the 5-year overall survival rate considerably [3]. Considering the importance and worse prognosis of false negative results due to under treatment, we chose to focus on sensitivity and NPV as our primary data for analysis. The more false negative results, the lower sensitivity and NPV. The study showed that FDGPET/CT had a high sensitivity of 90.9% (95% CI 70.8-98.9%) and an even higher NPV of 96.7% (95% CI 88.5-99.6%). Contrary, we found a low specificity of 67.4% (95% CI 56.5-77.2%) and a PPV of 41.7% (95%CI 27.6-56.8%) in detecting groin LN metastases.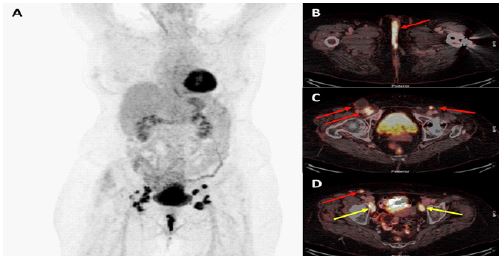 Figure 2: 79-years old woman with newly diagnosed vulvar cancer referred for primary staging with FDG PET/CT. A large tumor with high FDG uptake is seen in vulva on the MIP image (A) and the axial fused PET/CT image (B, arrow). Several both enlarged and not enlarged lymph nodes with high FDG uptake are seen in both groins (A,C,D, red arrows) and bilateral in pelvic area (D, yellow arrows). Lymph node metastases were confirmed by histology.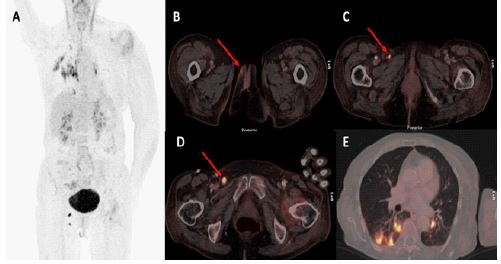 Figure 3: 72-years-old woman with newly diagnosed vulvar cancer referred for primary staging with FDG PET/CT. A small area with increased FDG uptake is seen in the right side of vulva as demonstrated on MIP (A) and fused FDG PET/CT image (B). Two small suspicious lymph nodes in the right groin with high FDG uptake are seen on (A,C,D). Biopsies confirmed lymph node metastases from vulvar cancer. Furthermore, FDG PET/CT showed bilateral lung infiltrates with high FDG uptake due to infection.
Few previous studies have investigated the role of FDG PET/CT in detecting groin LN metastases in vulvar cancer patients using histopathology as reference. These studies have reported varying results with sensitivities ranging from 50 to 100% and NPV from 57 to 100% (2; 9; 12-19). This variation may be explained by e.g. the differences in study designs and different reference standard. Some studies were retrospective, like our study, while others were performed prospectively. A consideration is that in rare diseases, data may be collected from various centers to allow a higher number of included patients introducing potential bias. In our study, we did not collect data from different centers, though vulva is relatively rare disease. Instead we collected data only from AUH securing homogeneity and patient being treated after exact same patient investigation program.
The high NPV and sensitivity in our study is in accordance with the results reported in a Dutch study by Collarino et al [20]. Like most of the other studies, this is a prospective study with a small study group consisting of 33 patients, all scheduled for IFLN dissection. As in our study, they report a high sensitivity of 95.2% and NPV of 96.4%. Moreover, their data results in a relatively low specificity of 75% and PPV of 69%.
Similar results are reported in another recent study by Rufini et al. from 2021, which is methodologically very similar to our study being a single center study with a retrospective design [9]. Opposite other studies this study is characterized by a relatively large study population of 160 included patients. LN status were evaluated using two qualitative methods; PET alone and FDG PET/CT. A sensitivity of 78.9%, specificity of 78.2%, PPV of 61.2% and NPV of 89.4% were found when combining PET and CT. Though, sensitivity is not as high as in our study, the NPV for detection of metastatic lymph nodes were still high.
A high NPV indicates that a negative FDG PET/CT with great accuracy predicts the absence of LN metastases to the groin. The high NPV found in our study, as well as in other similar studies, supports the clinical importance of FDG PET/CT in selecting vulvar cancer patients with unifocal tumors less than 4 cm for groin SLN procedure [9]. The low PPV means, that a positive FDG PET/CT is not highly predictive for groin LN metastases. Thus, a positive FDG PET/CT needs to be interpreted with caution.
In our study, we also found a low PPV of 41.7% indicating that a PET positive LN in the groin not necessarily means metastasis to the LNs. This is in contrast to the results from a study by Cohn et al [13]. They analyzed their results on a patient-by-patient basis, like we did in our study, as wells as by a groin-by-groin basis. On a groin-by-groin basis they found FDG PET/CT to have a sensitivity of 67%, specificity of 95%, PPV of 86%, and NPV of 86%. On a patient-by-patients basis they report a sensitivity of 80%, specificity of 90%, PPV of 80% and a NPV of 90% [13]. However, the authors report a quite lower sensitivity, which was due to more false-negative findings, especially on a groin-by-groin basis. It is interesting and worth noticing, that when analyzing on a groin-by groin basis instead of patient-by-patient basis, results are affected significantly. The authors suggest that false negative findings might be due to either micro-metastases or completely tumor necrotic LNs which are metabolically inactive, leading to false-negative PET findings. Similar, it is well known that reactive benign LNs can have FDG uptake, resulting in false positive results. This is a pitfall when analyzing on a patient-by-patient basis as well as on a groin-by-groin basis. All patients underwent groin lymphadenectomy, either unilateral or bilateral.
FDG PET/CT is widely used in the management of different cancers. The possibility of combining anatomical as well as functional imaging is the main advantage when using this imaging modality. The benefits range from diagnosing, treatment planning and to evaluating a treatment response. FDG PET/CT can identify even small signs of cancer very early resulting in early diagnosis and staging. FDG PET/CT may detect small but not enlarged LN metastases, whereas both MRI and CT rely on size and structural characteristics. No other commonly used imaging modalities such as Ultrasound (US), CT or MRI are just as precise [21]. The advantages of FDG PET/CT are widely known and has therefore become standard procedure in the clinical management of different cancers world-wide [21]. Our study support the significant role of FDG PET/CT in the investigation program of vulvar cancer patients.
Though, there are also well-known challenges associated with the use of FDG PET/CT. FDG PET/CT demonstrates the FDG uptake (a marker of glucose metabolism) in the tissue, which is increased in most malignancies, but increased FDG uptake can also be seen in benign, and in normal tissue with physiological uptake. Consequently, increased FDG uptake is not specific for metastases [22]. Beside metastases, FDG uptake is correlated with inflammatory activity or infection, limited uptake in very small tumors (micro-metastases), hyperglycemia and hyperinsulinemia resulting in altered uptake or reactive LNs due to e.g. earlier groin surgery [23]. These pitfalls are important knowledge for the physician interpreting the images [24], but it is also important for the surgeons when using FDG PET/CT as part of the standard procedure in the management of vulvar cancer patients.
Knowledge about advantages and disadvantages of FDG PET/CT has also been important when interpreting data from our study. A high NPV is one of our main results. This indicates that a PET negative LN most likely does not contain metastases. This may have therapeutic consequences. According to current protocol, a negative FDG PET/CT is followed by SLN procedure if other criteria for SLN procedure are fulfilled. Though SLN procedure is considered a safe method, side effects may occur as it is a surgical procedure [5]. Associated side effects are for instance wound infection and lower limb morbidity, though the risk of side effects is lower than surgery with full IFLN dissection. According to data from our study, patients with a negative FDG PET/CT most likely have a healthy groin, since few are false-negative. This leads to questioning whether it is in fact necessary with surgery of the groin, especially in the case of high-risk patients (e.g.very high age, severe comorbidity, high BMI), where the risk of complications due to surgery is increased. In addition, these patients might have difficulties tolerating any complications. Though, on the other hand, current guidelines are based on older published studies, especially the first Groningen International Study on sentinel nodes in vulvar cancer (GROINSS-V) [7] from which indications for SLN are mainly based. SLN procedure is considered an overall safe method when performed by highly specialized surgeons (5; 25). Furthermore, metastases to the groin is the most important prognostic factor, meaning overlooking metastases can be fatal [3]. Under treatment of false-negative patients consequently worsening the prognosis could justify possible overtreatment of this group. A final consideration concerning the high NPV in our study is the potential possibility of expanding the criteria for SLN procedure. To avoid morbidity due to IFLN dissection, SLN procedure might be performed on vulvar cancer patients also with multifocal disease and/or tumors larger than 4 cm if the PET/CT is negative. Evidence to guide such an extension of indications for SLN procedure is of course needed and might be investigated in future studies.
A low PPV is a result of false-positive FDG uptake in non-malignant LNs. This means, that the finding of a positive LN on FDG PET/CT scan does not necessarily correlate with metastases to the groin. As mentioned, benign reactive LNs may have increased FDG uptake. This is important knowledge prior to planning of further treatment strategy for the patient. The finding of false-positive results in the groin can have a negative impact by resulting in unnecessary concerns, hospital visits, further examinations, IFLN dissection and subsequent morbidity.
False-positive findings can be due to increased FDG uptake in benign LNs following vulvar biopsy or shaving, which may lead to difficulty in interpretation of metastases. High levels of FDG uptake in large, necrotic and inflamed tissues leading to false-positive results seem to be the major limiting factor to the effectiveness of using whole body PET/CT in the management of vulvar cancer patients [22]. Thus, it is important to be aware of common pitfalls when reporting FDG PET/CT in vulvar cancer patients [24].
Another consideration with the routine use of FDG PET/CT as part of the patient investigation program is incidental findings as a result of scanning the whole body [26]. The possibility of finding distant metastases of vulvar cancer is obviously beneficial, although seldom. Though, in some cases, by searching the whole body for metabolic and anatomic alterations, this may result in findings of unexpected malignancies [26]. It could have a positive impact by potentially resulting in earlier diagnosis leading to earlier treatment of the malignant finding. However, the findings may also be insignificant, due to FDG uptake in non-malignant conditions. Since unexpected findings cannot be neglected, patients might undergo unnecessary concerns and time-consuming processes. These might include invasive procedures, also associated with potential side effects and complications in the diagnosis of cases with incidental findings.
Our study had some limitations. The data are based on a single center study. It could be beneficial since the clinical investigators are often continuously involved. Though, a single center trial is often associated with a relatively smaller study population. Especially vulvar cancer studies are often characterized by relatively few included patients due to the rare occurrence of the disease.
A great strength of this study is the homogeneity. In Denmark and in our study only a few pathologists and a few surgeons are managing the investigation program and treatment of vulvar cancer patients. All patients are discussed at highly specialized MDT conferences (gynecologists, oncologists, pathologists, specialists in nuclear medicine, CT and MRI radiologists). Thus, patients are treated by the same highly specialized team, working after the same protocol, meaning the patients are examined the same way. This ensures high standard and high quality in the investigation program, which strengthen the study. However, despite highly specialized team and SLN considered as golden standard, it is worth questioning whether the histological result is always correct. According to the GROINSS-V study [7], SLN procedure is a safe method in early stage vulvar cancer in diagnosing metastases to the groin. Still, the histological result depends on both the surgeon and the pathologist. Even though the highly specialized team has a great routine and expertise, failures may happen. Malignant tissue is removed by the surgeon based on a predefinition of the area, but some patients might be more difficult operating, e.g patients with a high BMI. In those cases, there is a risk that the surgeon is not able to find the SLN. Furthermore, there is a risk of overlooking small metastases by the pathologist.
A final great strength is the use of Civil Personal Registration (CPR) number which is the Danish form of social security number. This ensures great control of data on our included patients enabling us to have a secure access to identify all patients. Since data is registered in the electronically medical journal, we had the opportunity to review the journals safe and very thoroughly.