Case report
A 49-year old male patient, previously diagnosed with Idiopathic Thrombocytopenic Purpura (ITP) and arterial hypertension, started experiencing exacerbations of neurological symptoms one year prior to admission to our inpatient hospital. The first manifestation of the neurological disease was acute headache associated with speech disturbances. Brain Magnetic Resonance Imaging (MRI) showed hemorrhagic infarction in the left parietotemporal region, initially thought to be a possible glial tumor (Figure 1a,1b). The patient was operated on, but histopathology results showed hemorrhage and no signs of tumor. This was followed by transient, predominantly sensory dysphasia, lasting two months. The next exacerbation took place six months after the initial one with epileptic seizures (clonic seizures involving the right half of the face and hand), in the setting of a fever with laboratory values suggesting inflammation, acute speech difficulties, right-sidedweakness and moderate to severe pain in the right upper quadrant. Several weeks later, the patient experienced the presence of mucous and bloody diarrhea. Both neurological exacerbations occurredfollowing prolonged immunomodulatory therapy (methylprednisolone, azathioprine) due to the decline in platelets in the setting of ITP.
The patient was referred to our hospital and global, predominantly motor aphasia with right-sided hemiparesis was demonstrated. Repeated Cerebrospinal Fluid (CSF) examination showed pleocytosis, (5 cells), hyperproteinorrachia (0.65 g/l), and hypoglycorrhachia (3.2 mmol/l). Brain MRI revealeda new area ofinfarction in the left frontal operculum that underwent hemorrhagic transformation (Figure 1c,1d). Significant vascular abnormalitieswere not identified by CT brain angiography. Viral etiology of the disease was verified by the detection of anti-VZV antibody in CSF, with a significant CSF/serum index for anti-VZV IgG antibodies of 9.3, and bythe detection of VZV DNA in CSF by Polymerase Chain Reaction (PCR) (Figure 2). Zoster lesions were not observed and there was no history of zoster obtained.
DNA was extracted from the cerebrospinal fluid of an immunocompromised patient with small and large vessel vasculopathy due the varicella zoster virus.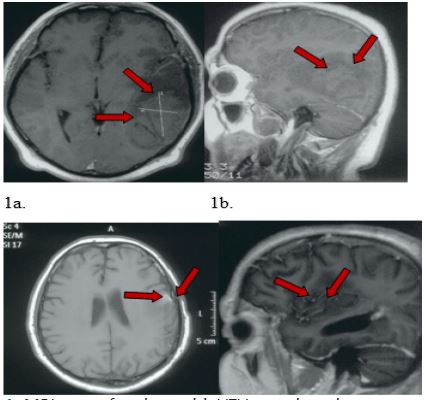 Figure 1:MRI scan of patient with VZV vasculopathy
1a. axial, and 1b. sagittal T1W hemorrhagic infarction in the left parietotemporal region, initially thought to be a possible glial tumor.
1c. axial and 1d. sagittal T1W infarction in the left frontal operculum with focal cortical T1 Whyperintensity (hemorrhagic transformation).
The patient received causal treatment with high daily doses of intravenous acyclovir (750 mg tid) for three weeks. This resulted in the significant improvement of his subjective symptoms of abdominal pain and fatigue, full cessation of bloody and mucous diarrhea, and normalization of anemia, hypokalemia, and hypocalcemia (observed through the regular monitoring of laboratory parameters during the time of his hospital stay). The end of the treatment also coincided with the moderate improvement of his neurological status – residual, dominantly motor dysphasia in addition to signs of mild right-sided hemiparesis. At one point, proteinuria/hematuria without changes in the nitrogen balance of bloodwas found. This stopped after the discontinuation of gentamicin initially given to the patient as part of the treatment. Gastroduodenoscopy and colonoscopy were performed after the subsidence of GI problems and did not show any significant lesions in the explored portion. In addition to acyclovir, the patient was also given antihypertensive, gastroprotective, antibiotic, antiepileptic, and antidepressant treatment during the inpatient hospital stay. Throughout the whole period the patient's level of platelets was within the normal limits. VZV DNA in serumwas negative at discharge.