Case description
A 40-year-old female patient with a five-year history of diabetes, a one-year history of hypertension, and a recent acute COVID-19 pneumonia reported with per-nose discharge for 20 days. The discharge was clear, colorless, and odorless, and it increased as the head was bowed forward. It was accompanied by severe swelling of the left face and a low-grade temperature. After 12 days, there was acutely progressing painful swelling of the left eye with foul-smelling ocular discharge. There were no symptoms of sensorium impairment, headache, seizures, vomiting, vision loss, or weakness. The general examination of the patient was normal. Local examination revealed tenderness in the left-sided paranasal sinuses, as well as induration across the left maxillary region. The oral examination was normal. A neurological examination revealed left-sided external ophthalmoplegia with chemosis and conjunctival injection (Figure 1a). The remainder of the nervous system, including other systems, was found to be normal.
On further evaaluation, there was presence of microcytic-hypochromic anemia, leukocytosis, random blood glucose of 461 mg/dL, C-Reactive protein 26.9 mg/L, HbA1C 11.3% with normal renal, liver, thyroid function and electrolyte levels. She was serologically negative for HBsAg, Anti-HCV, HIV. Her cerebrospinal fluid examination was normal. The nasal discharge was positive for beta-2 transferrin. Magnetic Resonance Imaging (MRI) of paranasal sinuses revealed left maxillary, sphenoid, frontal and bilateral ethmoidal sinusitis along (Figure 1b,1c,1d,1e) with focal erosion of left cribriform plate (Figure 1f). The left-sided pre-maxillary soft tissue along with masticatory spaces showed radiological involvement along with presence of right-sided mastoiditis. MRI of orbit showed erosion of left inferior orbital wall to involve extraconal fat with involvement of left-sided inferior rectus muscle. Her computerized tomography of paranasal sinuses showed mucosal thickening in the left maxillary, ethmoidal and frontal sinuses, obliteration of osteomeatal complexes, with a defect in left-sided cribriform plate (Figure 1g). MRI of brain was normal. Functional Endoscopic Sinus Surgery (FESS) showed left-sided greyish-brown crusts with congestion suggesting maxillary sinusitis (Figure 2a). Histopathological examination of nasal tissue was positive for broad-based aseptate fungal hyphae branching at acute-angle resembling mucormycosis, moderate lymphoplasmacytic inflammatory infiltrates and extensive necrosis (Figure 2b).
She was diagnosed as ROCM and treated with liposomal amphotericin-B therapy for six weeks with a single retrobulbar amphotericin-B injection, then oral posaconazole therapy for three months. An aggressive Functional Sinus Endoscopic Surgery Debridement (FESS) was performed to extensively remove the necrotic tissues and discharge from the paranasal sinuses. Euglycaemia was maintained with Insulin followed by oral antidiabetic medication.
CSF rhinorrhea resolved within seven days of intravenous amphotericin-B therapy. Her left-sided orbital swelling completely subsided over 14 days, while ocular movements returned to normal over a month (Figure 3). Sinusitis recovered over three months of antifungal treatment. On follow-up at 3 months, the patient was found to be completely normal clinically, along with total resolution of previous MRI lesions of paranasal sinuses, orbit and brain without evidence of any new lesion.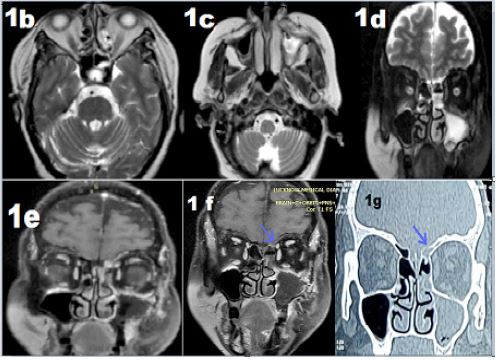 Figure 1: b) Axial T2 hyperintensities in left ethmoidal and sphenoid sinuses and (c) left maxillary sinus, (d) Coronal T2 hyperintensities in bilateral ethmoidal and left maxillary sinus, (e) Coronal gadolinium contrast showing enhancement in left frontal, maxillary and bilateral ethmoidal sinuses, (f) focal erosion of left cribriform plate with enhancement of bilateral frontal sinus, ethmoidal and left maxillary sinuses, (g) CT paranasal sinus showing defect of left sided cribriform plate.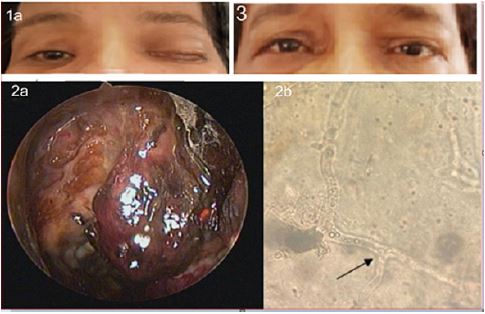 Figure 1(a): Showing left ocular swelling with ptosis, chemosis and conjunctival injection.
Figure 2: (a) Nasal endoscopic view showing necrotic tissue over middle turbinate and cribriform area,
(b) KOH mount showing broad aseptate right angle branching (Black arrow) fungal hyphae of Mucormycetes.
Figure 3: Showing resolution of ocular swelling, ptosis and chemosis.